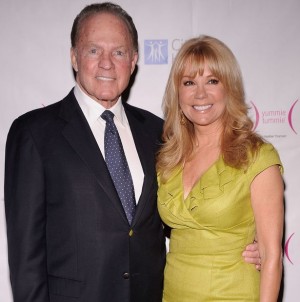 Frank Gifford's Last Will and Testament
Frank Gifford once played for the NFL. If you're familiar with the name Gifford, then you most likely know the name and reputation of famous talk show host, Kathie Lee Gifford. The co-host of Live with Regis and Kathie Lee reigned supreme on America's airwaves for more than a decade, but her admittedly less known husband of 29 years,  Frank Gifford, had a successful television career of his own as the charismatic NFL sports commentator of Monday Night Football.
Originally married to Maxine Avis Ewat for six years, Frank divorced his first wife and married Kathie Lee in 1986. The marriage with Kathie produced two children: Cody (now 25) and Cassidy (now 22). His other three children, Jeff, Kyle and Victoria, were the product of his first marriage to Maxine.
Frank passed away on August 9th, 2015, just a few weeks shy of his 85th birthday.
Revelations surfaced last month that the majority of Frank's $10 million dollar fortune was to be given to Kathie Lee and their children. Frank's first wife, Maxine, was left nothing, while Jeff, Kyle and Victoria only received $2 million from that $10 million dollar fortune. Although an enormous sum to many, Frank's Last Will and Testament clearly favours his second family over his first.
The details of his Last Will and Testament are as follows:
Kathie Lee is the executor of Frank's estate

$500,000 goes to both Jeffery and Victoria (from his first marriage)

$1 million in trust goes to Kyle (from his first marriage), who was injured in a car accident

Kathie Lee is given control over what she deems as appropriate "payouts" to Kyle

Cassidy and Cody (from his second marriage) do not inherit anything directly, but are set to inherit all of his remaining fortune upon Kathie Lee's death

Maxine Avis Ewat (his wife from his first marriage) receives nothing

Christine Maria Gardner, the former nanny, is awarded guardianship of both Cody and Cassidy should anything happen to Kathie Lee (this is despite the fact that both children are currently over the age of majority)

Gardner is also granted $300,000 out of Frank's fortune, on the stipulation that any loans previously taken from Gifford's family have to be paid back in full first

Frank's Connecticut home (worth $22 million) and a second residence in Key Largo, are to be granted to Kathie Lee
Frank Gifford ensured that his all of his children received something, but the mere fact that the children from his first marriage only received $2 million while the rest went to the members of his second family must have no doubt stung a bit. Was this distribution fair?